Other Products
GREAT GLOVES!™
Item Number: 110-04BW
Black fleece gloves with white trim lined with 40 gram* Thinsulate™ Insulation from 3M. Features an adjustable Velcro strap at the wrist for fit and comfort.
One size fits most.
Ear Mitts® and GREAT GLOVES!™ Gift Set
Item Number: 1012-V/V
From the maker of Ear Mitts® Bandless Ear Muffs, this 2 piece gift set includes a pair of black velvet Ear Mitts® and matching black velvet gloves in a designer style gold gift box. Both the Ear Mitts® and velvet gloves have Thinsulate™ Insulation for warmth without bulk. It is unusual to find a dressy glove perfect for evening and special occasions that is also designed for warmth. Sizing is not a problem: The Ear Mitts® are one size fits all; the velvet gloves have elastic at the wrist and are one size fits most. Makes a great holiday gift either as a set or as two individual gifts.
This Gift Set also comes in other combinations:

Black Fleece Ear Mitts® with matching Black Knit glove
Item Number: 1011-GS

Heather Grey Fleece Ear Mitts® with matching Heather Grey Knit glove
Item Number: 1011-GSG

Black Fleece Ear Mitts® w/ USA with Black/White Glove
Item Number: 1012-BW/BUSA

Black Velvet Ear Mitts® with black velvet glove with Leopard cuff
Item Number: 1012-VL/V
Snuggler™ Back Pack
Item Number: 599726 Black (Black Back Pack Set)
Item Number: 599726 Pink (Pink Back Pack Set)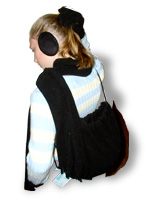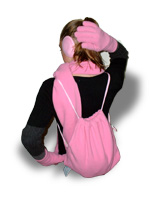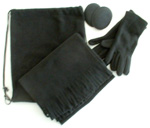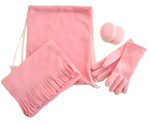 Four pieces in 100% microfleece - a pair of gloves, a 60" scarf with fringe, a pair of matching Ear Mitts® Bandless Ear Muffs with Thinsulate™ Insulation by 3M and Dupont™ Teflon® fabric protector and a fleece back pack to carry it all. Back pack also has a durable luggage tag. Available in solid black or pink fleece. Sizing is not an issue; one size fits most. A unique gift as a complete set, or as separate gifts. Keeps all your cold weather necessities together and ready to go.
Snuggler™ Scarf with Thinsulate™ Insulation by 3M
Item Number: 1200
The 100% acrylic scarf is black, 70" in length, with two hidden pockets. Hand Wash/Dry Flat, the unique property of the scarf is the 100 gram Thinsulate™ Insulation in the pockets and the Thinsulate™ Insulation lining around the neck. This insulation provides additional warmth against the cold where it is needed most. You can either wear the scarf open (keeping your hands warm in the pockets, and the neck protected), or wrap the scarf around your neck, the ends hanging loosely. The pockets keep your hands warm whether sitting inside a cold room, in a cold house, or outside in the cold air.
Foot Mitts™
Item Number: 1300L (Large)
Item Number: 1300-M (Medium)
Item Number: 1300-S (Small)
Warm and cozy double-sided brushed fleece socks with non-skid grippers to prevent slipping on smooth floors. The cushioned foot bed is comfortable to walk in, yet not too bulky. Features 40 gram Thinsulate™ Insulation to keep toes and feet warm and cozy. Available in Small, Medium and Large sizes.
Please contact Brad Levinson at sgmarketinc@aol.com or
1-214-353-0882 or Toll Free 1-800-439-0883
during the hours of 9:00am and 4:30pm Central Time,
Monday through Friday for more information or to place your order.
We are the only Bandless Ear Muff with DuPont™ Teflon® fabric protector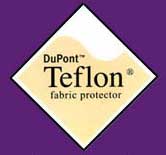 Click the logo above to see more information about DuPont™ Teflon® fabric protector

Black Fleece *
Navy Fleece *
Heather Grey Fleece *
Red Fleece
Pink Fleece *
Winter White Fleece *
Red/Black Fleece (Tartan)
Hunter Green Fleece *
Orange Fleece
Camouflage Fleece *
Black Mink Faux Fur *
Brown Mink Faux Fur *
Leopard Faux Fur *
Ocelot Faux Fur
Black Faux Leather
Brown Faux Leather
Black Sparkle *
Black Velvet
Camel Faux Suede *
Eggplant Faux Suede *
Denim
Black Fleece - USA
Navy Fleece - USA
Heather Grey Fleece - USA
Red Fleece - USA
Winter White Fleece - USA
* Available in smaller size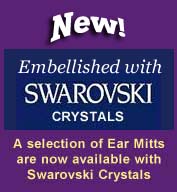 Black Fleece - Diamond
Black Fleece - Heart
Black Fleece - Star
Pink Fleece - Diamond
Pink Fleece - Heart
Pink Fleece - Star
Denim - Diamond
Denim - Heart
Denim - Star
Black Velvet - Stud